Benefit your students. Benefit your classroom.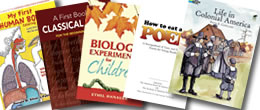 The Dover Book Club gives your students, parents, and friends access to Dover's industry-leading collection of books and learning materials.
With each order, your classroom earns 25% of the purchase amount in the form of rewards credit. The more orders placed, the more your classroom earns!
Share program news with parents and inform them of discount prices, great books and learning materials for their children. See Support Materials for handouts.
Have questions? Please Contact us.
Visit the Dover store to view materials and books available.
Reward Payments
Every purchase made at doverpublications.com using your account shopping link automatically earns your classroom a reward of 25% of the merchandise purchase value. Here's how:
Reward dollars are paid in the form of a gift certificate
Rewards are paid starting at $10 (minimum reward amount required is $10)
There is no maximum reward amount—the more orders, the higher your rewards
Your gift certificate reward may be applied to any order placed at doverpublications.com. Click the site information below to view the wide variety of books available for your classroom. Have questions? Please Contact us. Visit Terms page for full program details.
Visit Doverpublications.com to choose from a wide offering of books and materials including literature, math & science, common core resources and much more.